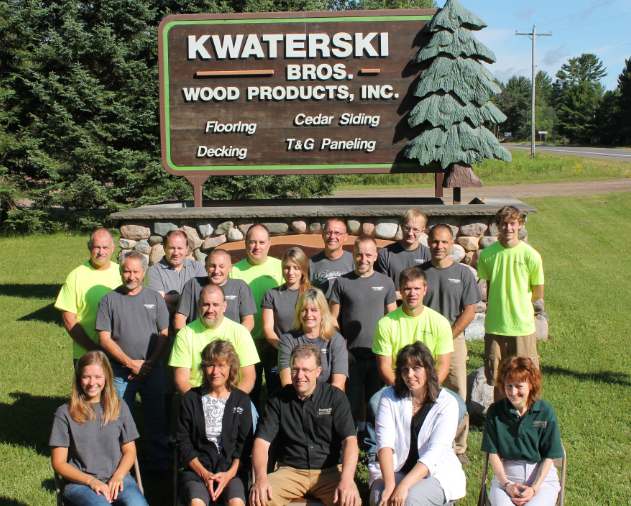 Perseverance, Creativity and Commitment could be found in every step and turn during the 35 year history of Kwaterski Bros Wood Products, Inc. My brother Jim and I learned the lessons of what it takes to create a successful business at an early age, growing up and working at a marine business founded by our parents, Gene and Mabel, and Gene's brother, Ed, and wife, Arlene. After they sold the marina, my parents started a construction firm, of which Jim and I worked for 1-1/2 years. During this period, we built a sawmill to provide some of the wood building materials for the homes we constructed. In August of 1979, our parents decided to move to Florida, and Jim and I purchased the sawmill and the attached building. The first two years were a continual struggle, as the economy and home building were in a free fall with no past customer base to fall back on. Looking back it is sometimes hard to believe how it all worked, and I will never forget the early clients who believed in us and gave us our first large orders. In 1982 we changed the business from a sawmill to become a planing mill to produce tongue and groove paneling and flooring. It was also in that year we hired our first full time employee and now 33 years later, Dean is still with us providing our clients with the experience and expertise that is not easy to find today. In 1993 we moved the business from Three Lakes to Eagle River into a new 20,000 sf manufacturing, warehouse facility with a large showroom. The building boom years were as much of a blessing as the recent building bust years were a challenge. Perseverance, creativity and commitment were more important than ever and have set the stage to provide our clients with more product options and selection than ever before. In September of 2013, my brother Jim retired from the company and has moved out west as many of us have dreamed to. My wife, Karla, has now joined the company, and I am surrounded by an incredible staff of professionals who simply love to help our clients. Call one of our sales team members today and let them help you build the home of your dreams!  ~Mike Kwaterski
Save
Save
Save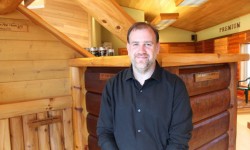 David - Inside Sales Professional
david@kwaterskibros.com
My journey started in my building trade class as a junior high student. I accepted a job as a laborer working for a small remodeling company. Being the laborer, I learned through daily job site tasks and eventually acquired enough skills and knowledge to be the project coordinator. With the new position came challenges being on the forefront of the building process. These challenges lead me to own my own remodeling business. In early 2009 we moved to Wisconsin, and I worked for a local home construction company as a project coordinator. My current position at Kwaterski Bros as an Inside Sales Professional completes my scope of the building process and leaves me with valuable knowledge to help customers. After nearly 22 years in trade and owning my own business, this journey has given me the ability to make your dreams a reality. During my free time I enjoy camping, biking, and being with family.
Renee - Administrative Bookkeeper
renee@kwaterskibros.com
I am pleased to say that I have been at Kwaterski Bros for 18 years now and have never been bored! Trying to balance accounts payable, accounts receivable and inventory keeps me extremely busy as well as answering the phones when our salespeople are all busy. There are always special questions and requests which keep the position new and challenging. When I am not at work I enjoy hiking on local trails as well as in Upper Michigan with my husband, Dave, and our dog. Cooking, gardening, and reading are also hobbies I love engaging in.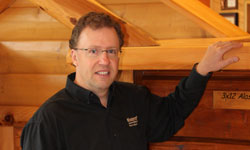 Mike - President
mike@kwaterskibros.com
I studied mechanical engineering at the University of Wisconsin Madison, but left after my junior year to join my parents and my brother, Jim in a construction firm in Three Lakes. One year later, in 1979, Jim and I purchased the sawmill from our parents and started custom sawing for landowners. We switched the operation four years later from a sawmill to a planning mill operation, producing paneling and flooring.  In 1994, we built a new plant on 18 acres between Three Lakes and Eagle River to continue expanding our product line, improve efficiency and product quality. I oversee production, purchasing, new product development, and I am also involved in some sales. I really enjoy the creative aspect of our business, developing new products that are unique in the marketplace to offer that one-of-a-kind product for our clients.  My wife Karla and I have three daughters that have all worked both in the manufacturing and office ends of the business. I would always tell them working here was like having weekends during the week; they would look at me and just roll their eyes! Ok, we do find time in the summer cruising our local chain of lakes on our pontoon boat. In the winter, ice fishing, snowmobiling, and both cross country and downhill skiing can also be a lot of fun. When you start envisioning your next project, please give us a call and find out how you too can have fun building the home of your dreams!